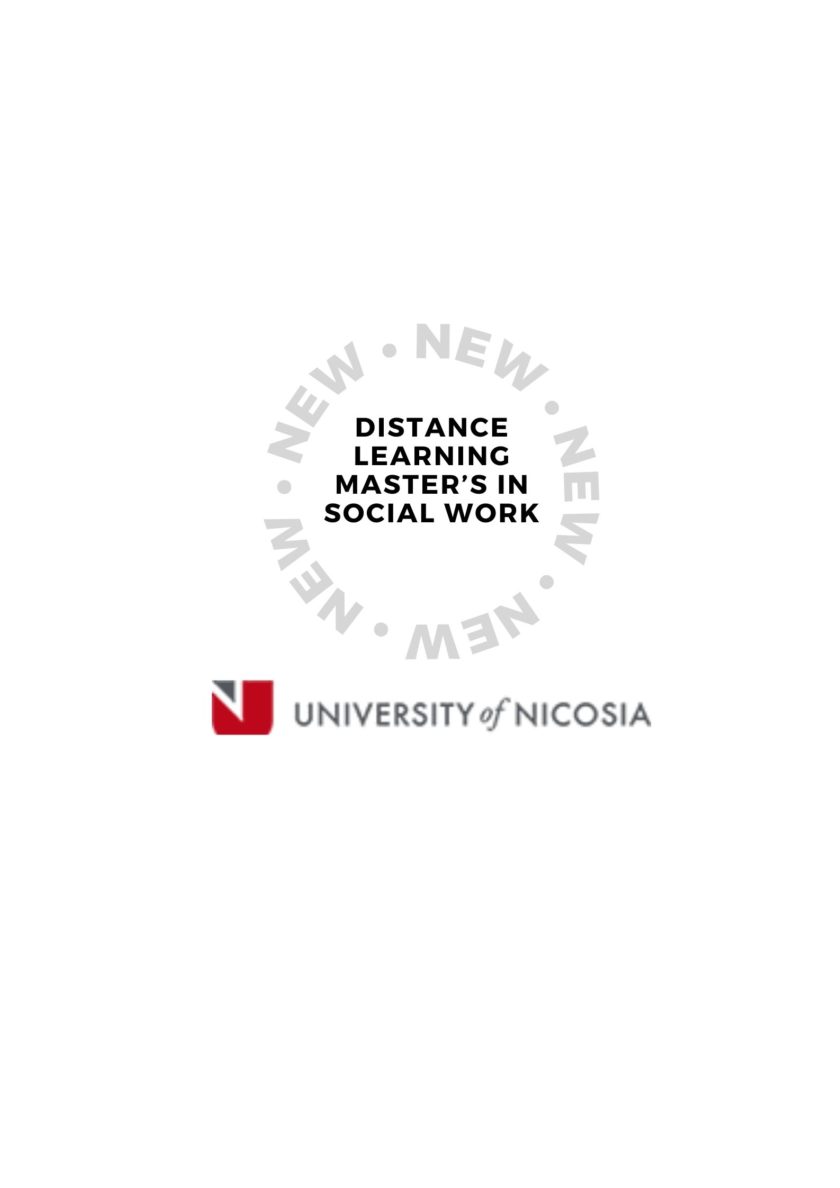 Distance Learning Master's in Social Work at the University of Nicosia
September 21, 2021
Dear all,
The Distance Learning Master's in Social Work, offered by the University of Nicosia the largest University in Cyprus, with over 14,000 students from over 100 countries across the globe. With the main campus in Nicosia, the country's modern European capital, and a presence in 18 other cities worldwide, we are driven by our pursuit of excellence in teaching and learning, innovation, research and technology. The University offers more than 100 conventional face-to face (on campus) and online programmes at the Bachelor's, Master's and Doctoral levels. Our world-renowned faculty, state-of-the-art premises and innovative e-learning platform empowers
you as a student and gives you the flexibility to thrive at our University.
Why you should consider a Distance Learning Master's in Social Work at the University of
Nicosia?
1. Member of a wide network of European universities (European Association of Schools of
Social Work).
2. Teaching faculty with long experience in teaching and research.
3. Innovative methods of teaching.
4. A University with a diverse student population.
Upon completion of the programme, the students are expected to be able to:
1. Understand in-depth concepts, theories and processes of Social Work that support the
design and implementation of interventions in various social groups (migrants, mental
health patients, victims of abuse, children and families).
2. Develop and formulate processes related to quality and equality in the provision of services
to their organization's employees.
3. Recognize the ontological background of social theories, research and practice in the
science of Social Work.
4. Adopt practical skills related to planning, implementing and evaluating interventions on
individuals, groups, communities and social organizations.
5. Gain knowledge of research methods, their use and their applicability in exploring a wide
range of organizational, community and social problems.
6. Analyze social policy and evaluate its implications and impact on service users.
7. Organize and manage effectively any kind of Social Service. Take leadership roles both in
promoting social work and the profession of social worker, and in empowering / advocating
social groups.
8. Communicate successfully, collaborate and share information with other health and social
welfare professionals and organizations in identifying the need for change, implementing
change strategies and effective programme management.
Registration
There are (two) 2 academic semesters for which you can register:
1. Fall Semester 2021, which begins on the 27th of September 2021. Applications for the Fall
Semester 2021 can be accepted until mid-September 2021.
2. Spring Semester, which starts in February. Applications for the Spring Semester 2022 can
be accepted until mid-January 2022.
There is a possibility that the available positions in any given programme can be filled before the end of the registration period, in which case the application process might be interrupted before the end of the registration period. For further information on the Distance Learning Master's in Social Work, please visit https://www.unic.ac.cy/social-work-msc-3-semesters-distance-learning/
Duration of Studies
The minimum duration of studies for the Distance Learning Master's in Social Work is three (3) semesters and the maximum duration is eight (8) semesters.
Method of Delivery
Students have access to their courses via the Moodle platform, after their official enrolment in the programme. Each course consists of lectures, assignments, participation in teleconferences using
WebEx and a final exam at the end of every semester.
Final Assessment
The Final Assessment for each course can be an exam or a take home exam, or an e-invigilated exam, or a project, or any other form of assessment.
The Final Assessment for Fall Semester 2021 will take place in January 2022.
Fees
The total tuition for the Distance Learning Master's in Social Work for the academic year 2021-
2022 for EU students is €6300 and, for non-EU students, it is €12,060. Tuition fees for newly
admitted students are subject to change every academic year without prior notice. An initial deposit
is made before registration, and the rest of the semester's tuition is payable in monthly instalments.
The application fee is €55 (non-refundable).
Application process
In order to start processing your application, we need to receive the following documents:
1. Application Form – All the fields should be completed, including field 9, which asks for the contact details of the referees.
2. Curriculum Vitae, indicating your education, academic and professional experience, any publications, awards, etc.
3. Attested copy of your Degree in Social Work or in any relevant subject. The Bachelor's Degree should include the graduation date and the final grade of the degree.
4. Attested copy of your Transcript – The transcript should be the final one, be issued after the issuance of the degree, and it should include the graduation date and the final grade of the degree.
5. Personal Statement: Short statement (approximately 2 pages) of personal goals and professional interests.
6. Proof of voluntary or paid work in social welfare area (this is essential).
7. English Language Certificate.
8. Two (2) reference letters, one from an academic and one from a professional.
In case you are not employed, you can provide two academic reference letters. You may submit your application online:
1. By visiting the following link, filling out the online Application Form and attaching the above documents: https://apply.unic.ac.cy
2. By sending the above documents to the email address of your admission counselor or to the general email address of the distance learning department: DL.admissions@unic.ac.cy
Visit the University of Nicosia Distance Learning website for more information about the Distance Learning programmes: https://www.unic.ac.cy/schools/distance-learning
For any further assistance you may require, please do not hesitate to contacting